Apron w/loops for braces
ART. 075800
description
With loops for braces
Art. 3320 braces fits apron
Width in size L: 88 cm
Length in size L: 120 cm
specifications
| | |
| --- | --- |
| Water Resistance | mm H₂O: > 10.000 mm |
| Material | PUP 240 DWR ELKA PRO |
| Composition | 100% Polyamide, Coating: Polyurethane 240 g/m² |
| Industry | Cleaning/Food Industry |
| Product Series | Made in Europe |
| Product Type | Apron |
---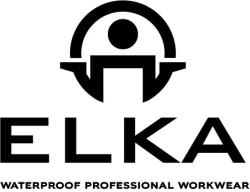 Since 1958 it has been in our core DNA to take on the challenge of providing protection against the extremes of nature and we provide workwear to a variety of specified industries, such as industrial fishing as well as wet room cleaning. The Made in Europe collection features a wide variety of products all with the common feature, that it is produced at our factory in Lithuania. We are experts in high quality, handmade PU and PVC high frequency welded workwear.
ELKA - Since 1958
At ELKA, we develop, manufacture and market products of the highest quality.
We have been doing that since 1958.
ELKA remains innovative, flexible and create solutions that lie outside the traditional framework. At ELKA we put our customers and dealers in absolute focus. Only through quick and quality-conscious service, can we ensure our customers a positive experience
Know-how is our most powerful resource and a high momentum ensures that we can continue to be flexible and innovative. Our focus is on your needs!