description
With strings
Width 87 cm
Length: 116 cm
Fish oil and cold resistant
specifications
| | |
| --- | --- |
| Material | PVC 320 ELKA LIGHT |
| Composition | 100% Polyester, Coating: PVC 320 g/m² |
| Properties | Fish oil resistant, Cold resistant |
| Industry | Cleaning/Food Industry |
| Product Series | Made in Europe |
| Product Type | Apron |
---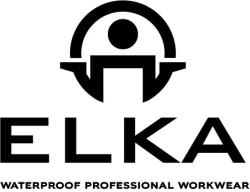 The ELKA PU range of clothing and accessories is best known for its high quality and fabric flexibility, which assure high efficiency and safety in the line of work – factors that are essential for optimal performance while working and the work comfort of the employees. The PU fabrics used for the food processing section is antibacterial, to prevent festering of bacteria in the fabric. These garments are specifically designed and built for work in wet environments. This applies e.g. to the food processing industries, wet-room cleaning, fish farming and production on the ship. The label "Glass & Fork", refers to a waterproof garment, approved for use in the food processing industry.
ELKA - Since 1958
At ELKA, we develop, manufacture and market products of the highest quality.
We have been doing that since 1958.
ELKA remains innovative, flexible and create solutions that lie outside the traditional framework. At ELKA we put our customers and dealers in absolute focus. Only through quick and quality-conscious service, can we ensure our customers a positive experience
Know-how is our most powerful resource and a high momentum ensures that we can continue to be flexible and innovative. Our focus is on your needs!